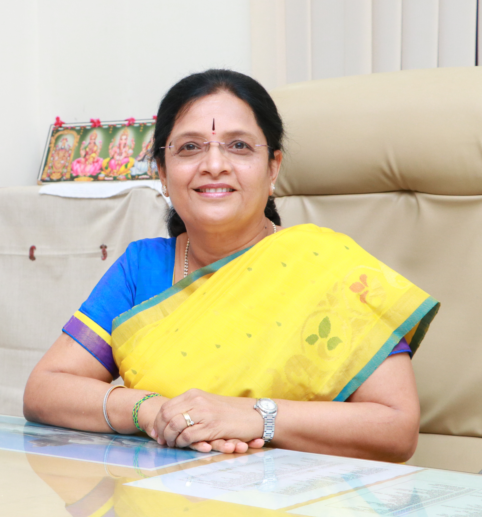 Dr. C. A. VASUKI
Secretary, Kongunadu Arts and Science College
President of Association of Management of Private Colleges, Tamil Nadu (AMPC)
Life Member, Indian Science Congress Association, Kolkata
The Laurel Wreath of our College; Dr. C. A. Vasuki is a University Gold Medalist and holds a Master's degree in Life Sciences.
As the daughter of the President, Dr. M. Aruchami, she has been closely associated with the growth and evolution of the College ever since her Under Graduate student days at the College. With the guidance from our College President and assistance from the College Council, she propelled the college to reach the skies and receive several prestigious awards and Recognitions from various governing bodies UGC, NAAC and MHRD.
She was one of the few chosen by the United States Department of Agriculture (USDA) for a Research project at the Beltsville Agricultural Research Centre (BARC), USA. She has also served as a visiting faculty in the Beltsville Agricultural Research Centre for over 2 years.
She became the Director-Finance of the Institution and subsequently became the Joint Secretary vested with the responsibility of managing and mentoring all matters connected with the Finance, Academic and Administrative activities in the College.
She took charge as the Secretary of the College with effect from 22nd May 2015 and has been steering the institution successfully with the following agenda for the immediate future:
Formulation of policy aimed at building sustained excellence in Post Graduate Teaching and Research.
Overseeing the efficient functioning of the academic and administrative branches of the Institution.
Human Resources Management for building effective teaching and research talent that will help to grow the Institution.
Finalization of Research Collaborations with Institutions and Industry in the United Kingdom, Australia and other developed countries.
Supporting and enabling cultural and artistic pursuits aimed at nurturing India's rich heritage and advocating community centric welfare initiatives.
The College has achieved the prestigious status of 'College of Excellence' awarded by the UGC under her stewardship. She has been elected as the President of Association of Management of Private Colleges, Tamil Nadu (AMPC). She is also the Convenor of the Indian Science Congress Association – Coimbatore Chapter.
She is a recognized and active social worker coordinating various social and community related voluntary activities in coordination with the Lincolnshire Trust.
Dr C A Vasuki is appointed as an Advisory member in the National Council for Transgender Persons under of Ministry of Social Justice and Empowerment.
She has acquired considerable expertise as an Educational Administrator and has her own distinctive vision on shaping the future development of the Institution. She believes in the importance of "harnessing the resources of talented personnel and recognizing true performance" as the building blocks of any growing Institution. She has widely travelled and has gained much worldly knowledge, which will definitely help the institution to grow further in its academic stature.
Dr  C A Vasuki is also appointed as Syndicate Member of Bharathiar University.