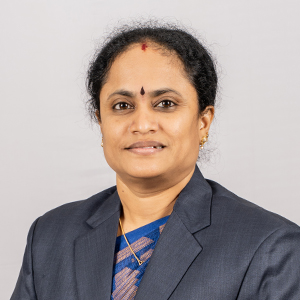 Mrs. R. Saradha
Deputy Controller of Examinations,
Kongunadu Arts and Science College, Coimbatore
Mrs. R. Saradha has completed her Bachelor's Degree in Computer Science and Master's Degree in Computer Application at Bharathidasan University. Then she completed her M.Phil in Computer Science and MBA in Educational Management from Alagappa University. Initially she served as Faculty in Computer Science at Govt. Arts College, Coimbatore. Of late, during the year 2008, she joined in Kongunadu Arts and Science College as System Analyst in the Office of the Controller of Examinations. Then during the year 2009 she was promoted as Computer Programmer. Subsequently, during 2010 she was promoted as Deputy Controller of Examinations to assist the Controller of Examinations in the administration.